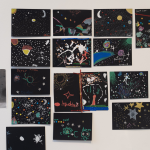 Age suitable for: All ages
The #SotonAstroArt in person workshops are back!

Make you own astronomy research inspired art, with 'scientifically accurate' stars while you can have a chat with the scientists.
Learn all about the Life Cycle of a Star, Supernova Explosions and Dark Energy research!

We will provide you with black card and paint pens to allow you to express your inner Astro-artist!