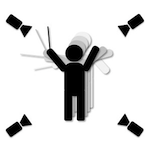 Age suitable for: All ages
Try your hand at being a conductor with this interactive exhibit where you control the music!

Find out more about how conductors communicate with musicians, what different conducting gestures mean and how computers and various motion capture technologies are being used to study conductors and follow their movements automatically.

Try out different conducting gestures for yourself and see what happens to the music.

You can even contribute your motion data to the Moving Music project, helping to train AI based conducting systems of the future!