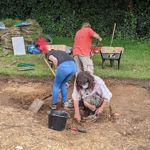 Archaeology in Southampton: Results and Finds from a Summer of Fieldwork
Age suitable for: All ages
In the summer of 2021, our Year 1 and Year 2 students at the Department of Archaeology, University of Southampton, conducted archaeological fieldwork at a number of sites in Southampton.

Results from the project were fantastic, from laser scanning and recording of graves in Southampton Old Cemetery, to Roman pottery and finds from the site of Clausentum.

Come and find out how our students carried out the fieldwork, and how they analysed the results.