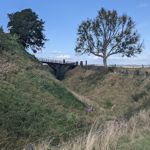 Old Sarum and its Environs: Landscape Archaeology and Geophysical Survey
Age suitable for: All ages
Old Sarum is a nationally significant monument to the north of Salisbury, comprising human settlement from the Neolithic to the 20th century, including an Iron Age hillfort, evidence of Roman settlement, and the impressive medieval phases of settlement.

The Department of Archaeology at the University of Southampton has been conducting a landscape archaeology project, discovering more about the past of the this fascinating monument and its landscape.

With this activity we hope to show you some of the methods used to survey the landscape, including topographic and geophysical survey, to discovering what is buried under the modern landscape relating to four millennia of human occupation.