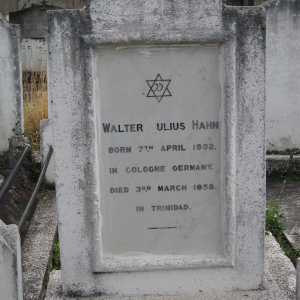 Creolizing Holocaust Memory: The Jewish Caribbean and Nazi Persecution in Literature and Art
During World War II, Caribbean expatriates living in Europe found themselves caught up in the war and, in some cases, imprisoned in internment or concentration camps. Meanwhile, some European Jewish refugees found safe haven in Trinidad and other parts of the Caribbean.

Long overlooked in standard accounts of the war, these entangled histories are made visible in Caribbean art and literature.

The internment art of Josef Nassy and the fiction of Louis-Philippe Dalembert trace emancipatory migrations from Suriname to Belgium, Poland to Haiti, revealing unexpected intersections between Jewish and African diaspora wartime experience.

This talk with Professor Sarah Phillips Casteel argues that creative mediums are especially deserving of our attention in the context of the Jewish Caribbean because of their capacity to recover creolized wartime memories that have fallen between the cracks of academic disciplines.

Sarah Phillips Casteel is Professor of English at Carleton University, where she is cross-appointed to the Institute of African Studies. Her most recent books are Calypso Jews: Jewishness in the Caribbean Literary Imagination (2016), which won a Canadian Jewish literary award, and the co-edited volume Caribbean Jewish Crossings: Literary History and Creative Practice (2019). She has taught at the Universities of Vienna, Mainz, and Potsdam and has held visiting fellowships at the Zentrum Jüdische Studien Berlin-Brandenburg and the United States Holocaust Memorial Museum. Her current book project is Making History Visible: Black Victims of Nazi Persecution in Literature and Art.

The event is part of the Parkes Institute for the study of Jewish/non-Jewish relations research seminars series.

The talk will take place in Zoom and booking is required to receive the joining instructions.