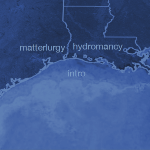 John Hansard Gallery presents Hydromancy by Matterlurgy
Age suitable for: All ages
This November, John Hansard Gallery is proud to showing the work Hydromancy by Matterlurgy. Hydromancy is a single channel video that unfolds practices of ocean modeling and simulation; technologies of sensing and predication; and the sentient agency of sea. The film reimagines footage from the National Oceanography Centre at the University of Southampton, where scientists are investigating processes that shape ocean circulation and its role in climate systems.

Through analogue and digital manipulations, the work re-observes and reconfigures technologies, practices and materials at play within climate prediction. The Hydromancer, a conceptual actor; part voice, part media anomaly, agitates from the peripheries of the frame; this ghostly presence shadows science and interventions into knowledge. The film addresses how data becomes data, what pipelines of production remain out of view or sense.

Matterlurgy is a collaborative practice between London based artists Helena Hunter and Mark Peter Wright . They work with scientists, technologists and communities to address issues of environmental change; combining the production of artworks with co-constructed events and live performance.

Hydromancy in at John Hansard Gallery from 1-26 November 2021, as well as online at www.jhg.art from 1 November 2021 until 31 January 2022.