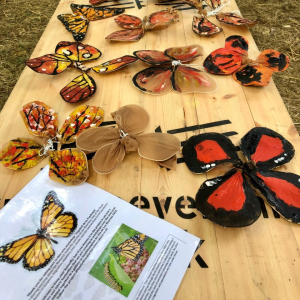 Monarch Butterflies, the Mexican Day of the Dead in Covid Times and Renewal
Age suitable for: All ages
This family friendly workshop, co-led by Dr Jane Lavery and British-Mexican-American artist Emily Wood Ramirez Ahmed, focuses on the Mexican Day of the Dead to raise awareness of this globally practiced cultural phenomenon.

We focus on the practice's central symbol, the Monarch butterfly. Papalotl is the Nahuatl word for butterfly and the Mexican Day of the Dead occurs at the same time of year as the Monarch migration. Indigenous beliefs say that butterflies represent the soul of ancestors returning to the earth.

Day of the Dead coincides with the butterfly migration swarming across North America to their overwintering sites on the West Coast of California and Oyamel forest in Central Mexico. This migration is now at risk as data shows a 90% decline in the Monarch population over the last 20 years due to climate change, habitat loss and deforestation. Many conservation groups are working to protect the species from extinction.

The butterfly also symbolises renewal and hope. Families will create a butterfly whilst discussing and learning about the Monarch, the Day of the Dead and the impact of COVID-19 on this practice.

The art craft butterflies will become part of a community kaleidoscope for an installation and animation video.

ITEMS YOU WILL NEED FOR THE WORKSHOP

To create your butterfly you will need these inexpensive materials:
* Garden wire and garden pliers (this is usually plastic coated steel wire,1.2mm thick, strong but easy to bend)
* Long nosed pliers (with wire cutter)
* A pair of tights (ideally beige/light brown colour 15, 20, 30 or 40 denier)
* Acrylic or powder paints: black, white, yellow and red
* A paint brush or stick
* PVA glue

BEFORE THE EVENT

PLEASE NOTE: to be able to participate, all adults and children need to fill in a CONSENT/ASSENT FORM and read the information participation sheet that will be sent upon registration on Eventbrite.

This will only take five minutes. Make sure you complete the form before the event and also please create a non-identifying username of your choice for for the consent and assent form. This same anonymous username must also be used to access the Blackboard Collaborate session for the online event on November 16th.


The event will take place in Blackboard Collaborate, but registration is required to access the exclusive URL and receive the joining instructions in the event reminders.